Jakarta Biennale supported by The Ministry of Education and Culture of Indonesia with Jakarta Arts Council and Sahabat Seni Nusantara presents webinar:
Art Brut: The 'Other' in The Indonesian Art World
What comes into your mind when you hear the term of Art Brut?
'Brut' means crude or raw in French. The term was coined by Jean Dubuffet (1901 – 1985), a French artist who was inspired by artworks made by psychiatric patients, inmates, and children.

To this day, the term 'Art Brut', alongside Raw Art' and 'Outsider Art', is used in many parts of the world, including Indonesia, to refer to artists that are self-taught and also artists with mental disabilites.

What is faced by Art Brut practitioners in Indonesia today?
Is there a connection between Art Brut and Disability Art?
Where will their position be tomorrow?

Speakers:
Sudjud Dartanto (Curator)
Nawa Tunggal (Journalist)
Hana Madness (Artist)

Thursday, November 12th 2020
7 PM – 9 PM (GMT+7)

Hana Alfikih or better known as Hana Madness is a visual artist based in Jakarta, Indonesia. It was during her high school years that she found that art can be cathartic, helping her to maintain sanity amidst her psychological crisis.

Most of Hana's artworks represent her mental health conditions, ones which would eventually become her main inspirations and challenging sources. She never thought that art could take her this far, breaking down the stigma and discrimination that she had previously experienced.

These personal experiences encourage Hana to actively voice mental health issues since 2012. Through her works, she tries to raise people's awareness of mental health and create a safe space that is full of support for people with mental disabilities.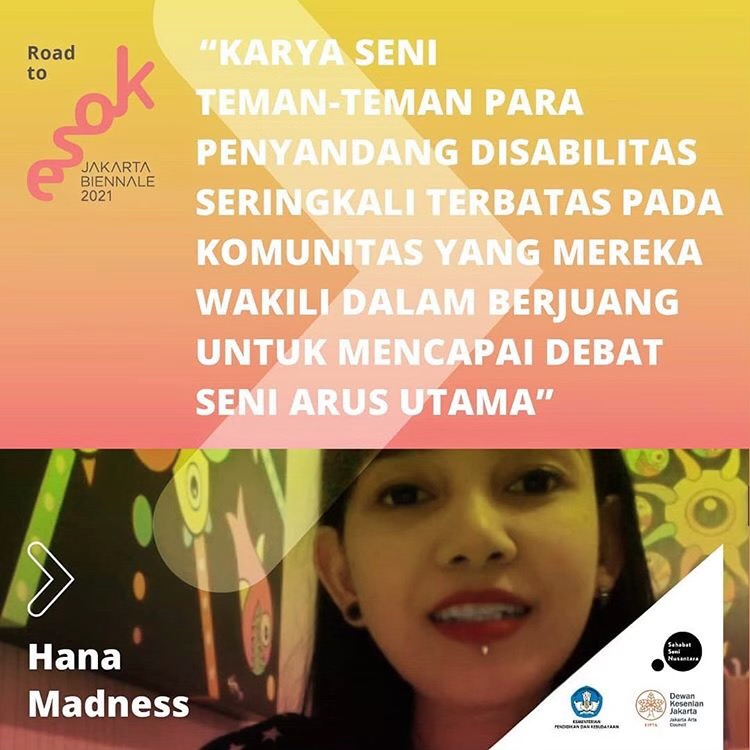 Hana says, "Artwork by disabled artists is often limited to the communities they represent in order to get into the mainstream art debate."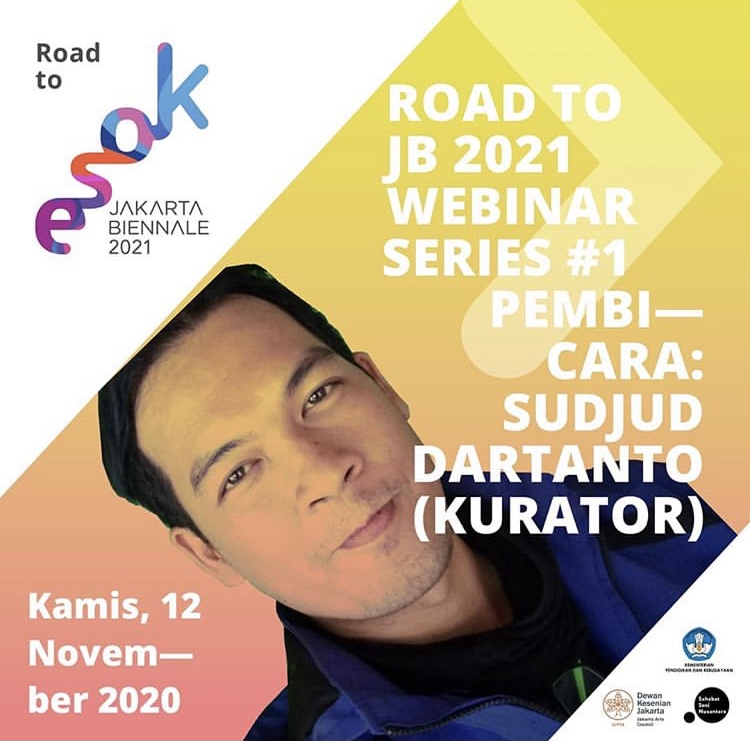 Sudjud Dartanto, curator, art practitioner and lecturer at Visual Arts Department, Indonesia Institute of The Arts. In the past several years, he has curated and organized a number of projects and art exhibitions, both solo and group in regional, national, and international scale. Up until now, he's a member of the curator board of National Gallery of Indonesia. Other than curating he's also active in writing and researching various issues related to history, culture, media, and disability.

Nawa Tunggal's concern towards people with schizophrenia emerged along with his care towards Dwi Putro, his older brother who has schizophrenia. In the early 2000s, Nawa was encouraged to introduce art therapy to Pak Wi. 8 years later, Nawa seriously accommodated Pak Wi with a painting studio and submitted his works to a number of exhibitions in Yogyakarta. The step became an opening path for Pak Wi to enter the art world as an artist. Along his companionship, Nawa has been actively involved in several activities to support artists with mental health disabilities with his friends.